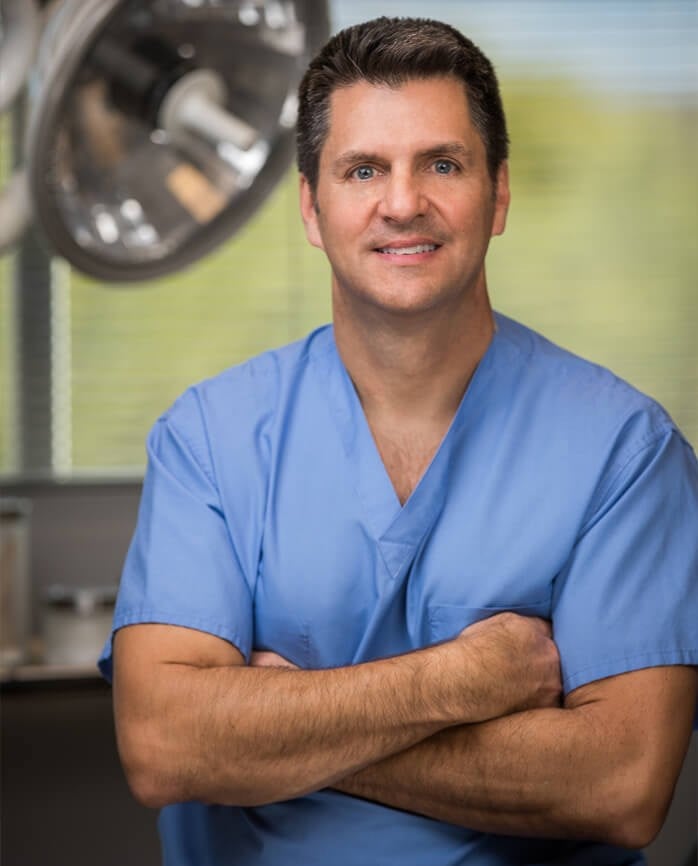 Dr. John Williams is a Board-Certified Plastic Surgeon with over 25 years of private practice experience in Scottsdale, AZ. He specializes in cosmetic surgery of the breasts, body, and face. Additionally, he and his team perform multiple non-surgical treatments to rejuvenate the face and body. Dr. Williams has earned a reputation as a highly skilled, meticulous surgeon with an artistic vision and a keen eye for aesthetic balance. He is also known for his kind and compassionate bedside manner and his warm and welcoming office.
Dr. Williams personally sees every patient during every visit to his office, from the initial consultation to the final post-op check to make sure that every patient is properly cared for. He also performs every injectable procedure done in his office. As one of the premier plastic surgeons in Scottsdale, he has earned the trust of patients from all walks of life and age range including local celebrities, professional and Olympic athletes, physicians and their families, even other plastic surgeons. He maintains full medical privileges at the HonorHealth Hospital System, and performs surgery at outpatient surgery centers throughout Scottsdale.
Special Skills & Training
Dr. Williams earned the distinction of being Board Certified by the American Board of Plastic Surgery and is a long standing member of the prestigious American Society of Plastic Surgeons and the Arizona Society of Plastic Surgeons. Upon completion of his training, he began his surgical career with a focus on treating patients with a wide range of plastic surgical needs including those requiring reconstruction following cancer, burns, and traumatic injuries. The complex, intricate nature of these procedures honed the surgical skills of this self-described "detail-oriented perfectionist." However, he soon realized that his true passion involved the intricate, yet artistic, nature of cosmetic surgery.
Over the last 20 years he has focused his entire practice on cosmetic surgery of the breast, body and face. He is well known for producing beautiful, natural looking results that are sought after by patients not only in Arizona but throughout the United States, Canada and Mexico.
Dr. Williams earned a Bachelor of Arts degree in Biology in 1984 from Austin College in Sherman, TX. Four years later he earned his Doctor of Medicine degree from Texas Tech University Health Sciences Center School of Medicine. He then completed a residency in General Surgery at St. Joseph Hospital in Houston, TX followed by a fellowship in Plastic and Reconstructive Surgery under the leadership of world renowned plastic surgeon Dr. Ian Jackson.
Dr. Williams' achievements in plastic surgery have been recognized by local and national professional medical associations and media outlets. He was featured locally on Fox TV News and in the Arizona Republic Newspaper. His awards include being named "Top Doc" multiple times by Phoenix Magazine, as well as being featured on the cover of that issue in 2011. He was named one of America's Top Plastic Surgeons by the Consumer's Research Council of America for the past 9 years, reviewed and elected by his peers as one of the Best Doctors in America, earned a Patients Choice Award by Vitals.com for 7 consecutive years, and profiled by the national publication, New Beauty Magazine. He was also recently chosen as one of the "Most Influential Phoenicians" in their inaugural poll by Arizona Foothills Magazine.
Arizona Foothills Magazine, "Most Influential Phoenicians", 2018
Phoenix Magazine, "Top Doc," 2011, 2014
Phoenix Magazine, "Top Doc," 2011 Cover Feature
Best of Scottsdale, Doctors, 2015-2019
Consumer's Research Council of America – "America's Top Plastic Surgeons" – 2010-2019
Vitals.com, Patients Choice Award, 2012-2019
U.S. News & World Report, "Best Doctors in America," 2011
Super Doctors of Phoenix, 2012-2014
Family Man & Sports Enthusiast
Dr. Williams' patients appreciate him for his kindness, compassion, and for treating them like his own family. He and his wife of more than 30 years have 3 adult sons who all love sports. The Williams family especially enjoys playing basketball, running, swimming, lifting weights, hiking, skiing or any activity where they can spend time together.
Medical Privileges
Reviews
"Words can not express how truly happy I am with my whole experience! I have wanted this surgery for years, but never thought I would actually voluntarily have someone cut me open. Trust in someone to do that is HUGE! Dr. Williams put me at ease immediately. After meeting and speaking with Dr. Williams I knew I was in good hands! He explained the whole process and everything I should expect (good and bad). If I had known about him before I wouldn't have waited so long! His whole staff is fantastic, especially Adriana! Thank you for EVERYTHING! It's been a month, I know I have a long way to go till I'm all healed, but I am already so very happy with the results! If you are looking for a great surgeon look no further!"
K.L.
Google
"When you place yourself if the care of others, it's nice to feel confident and safe. This is what I found in Dr. William's office. He gives his professional opinion and lets you make an informed decision. Dr Williams also gives you options, helping you to feel your best. Stephanie, is the aesthetician who has been wonderful, she helps you to look better at any age. She explains the procedures and lets you decide what will work best for you. When she does a treatment she takes her time, explaining along the way what she is doing and why.Dr. Williams and his staff are truly "Scottsdale's best"!"
N.N.
Google
"I have beed seeing Dr Williams for several years and can't imagine having a better experience. His practice low key, elegant and personal. Adriana is kind, professional and an expert in her role. Dr Williams is an amazing physician and human. He has a light and gentle touch. I never look anything but natural."
L.J.
Google
"I can't express how grateful I am for finding Dr Williams for my breast surgery. I had researched a few other surgeons prior to choosing Dr Williams. From the moment I met him and his assistant Adriana (she is amazing too) I knew he was the correct choice for me. Dr Williams took the time to answer any questions or concerns I had and walked me thru what to expect from the surgery/recovery process. I'm now 4 months post recovery and I couldn't be happier with the results or the experience with the surgery and the follow ups I have received. It shows that Dr Williams and his staff including the surgery center truly care about their patients and that their recovery goes smoothly with the best results possible. I went into this surgery with a realistic idea what to expect as far as results go, however Dr Williams far exceeded that!! For the 1st time in a very long time I feel comfortable with how my body looks, I feel so much better health wise and my self esteem/confidence has also improved. I would 100% recommend Dr Williams to anyone looking for a great surgeon!!"
J.R.
Google
"Dr. Williams is a wonderful surgeon! I had my breast done 18 years ago with saline implants. After 4 kids and lots of working out they had bottomed out and needed pocket repair. Dr. Williams was able to repair the pockets, and exchange the implants to silicone without a lift. They look and feel amazing. His front office staff is wonderful as well!"
M.W.
Google
Related Posts